• Colleen Gray • Art For Aid • blog • news • update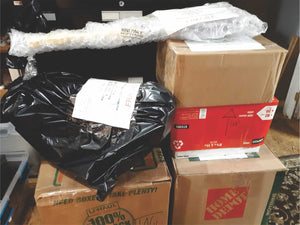 This good work is making a difference in helping Indigenous students enjoy and explore art. 
---
• Colleen Gray • #AFAPColleen • #certificate of authenticity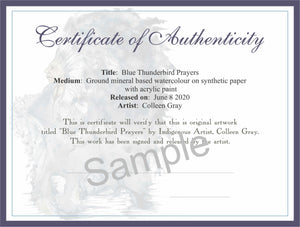 Are you an artist? The Certificate of Authenticity and your artist's signature are two very important elements in selling your artwork.
---
• Colleen Gray • Archival Prints Blog Post #AFAPColleen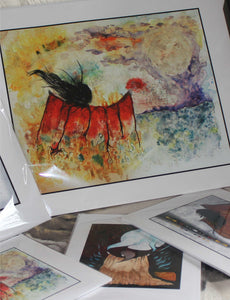 The Art For Aid Project
only sells archival quality prints, but why?
The term 
"archival print"
 is the term used to describe fine art reproductions of museum quality. Using the finest quality papers and inks designed to resist colour fading, paintings are reproduced using a fine art printer with exceptionally high resolution. The end result of this process means that the artwork is 200 years light-fast (will not fade when properly displayed out of the direct impact of the sun). The paper used should be pH neutral, and the ink is pigment ink.
---
• Colleen Gray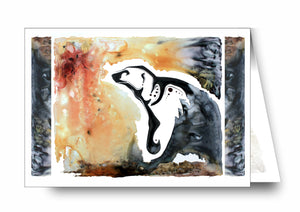 All of our Art Cards are professionally printed, affordable and ready to be mailed out or framed for your home. (Envelope included)
The story of each work of art is located on the inside cover of the card. A light watermark of the artwork is positioned on the facing page where you can write your note. The story for each piece of art can be referenced in the "prints" section of our store.
On the back of the card is a short write up about The Art for Aid Project's work and the impact this purchase has on positively affecting art for youth in remote Indigenous communities across Canada.
---
• Colleen Gray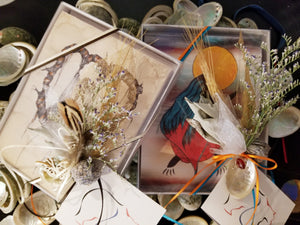 A wonderful gift. Our notecard packages are a popular item as people come to realize how important it is to connect beyond the electronic age. It's a wonderful feeling to get a beautiful note from someone delivered through the mail; it's tactile and meaningful in a way that electronic communication cannot deliver.